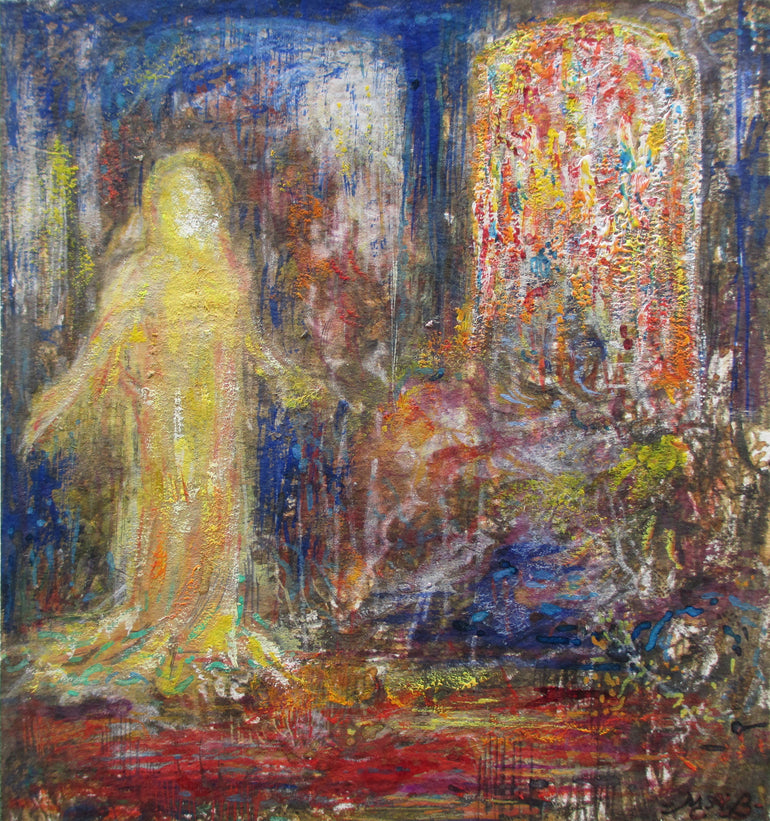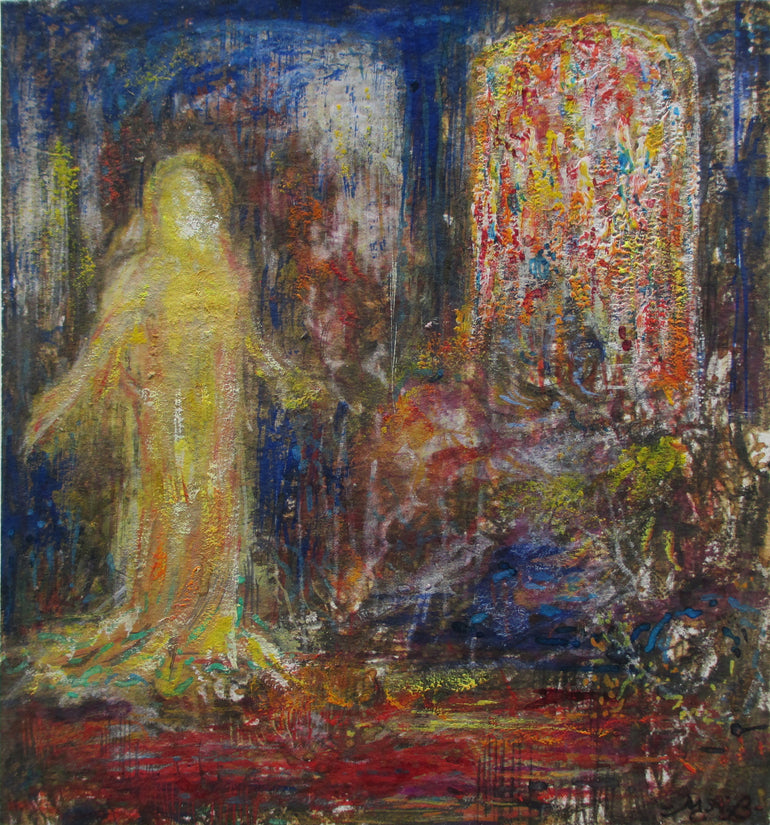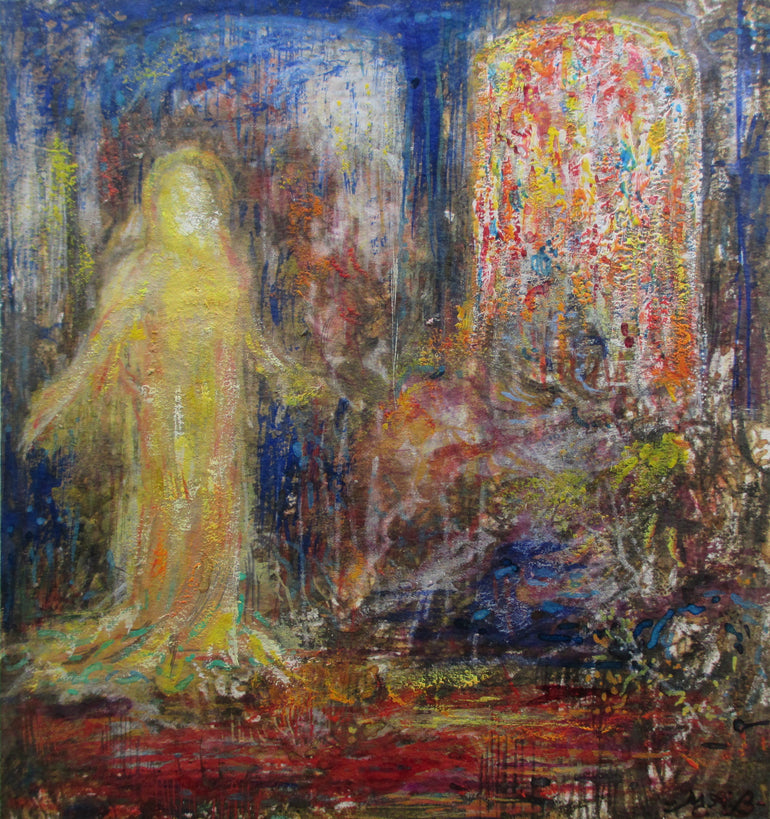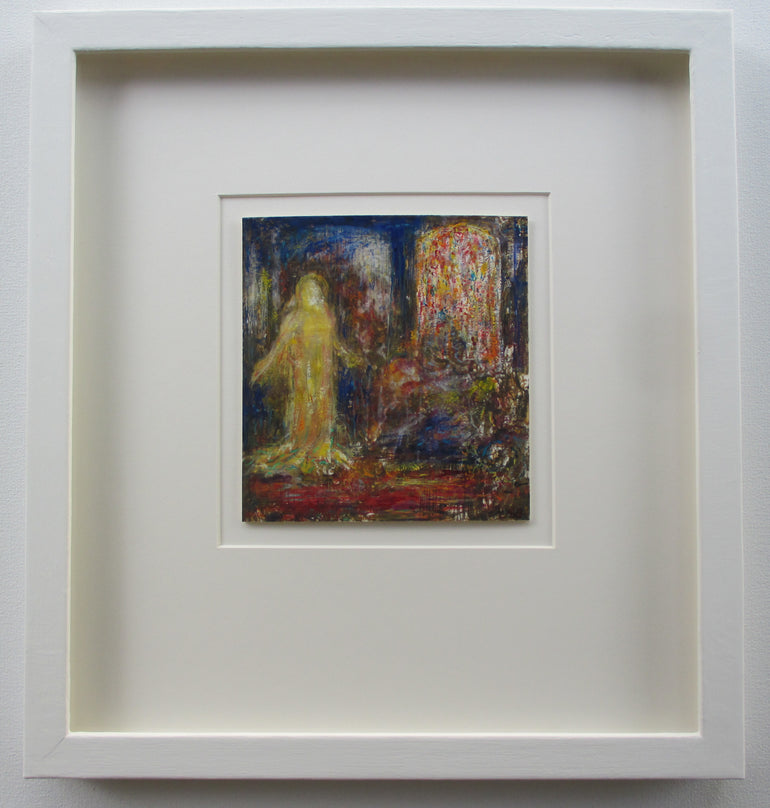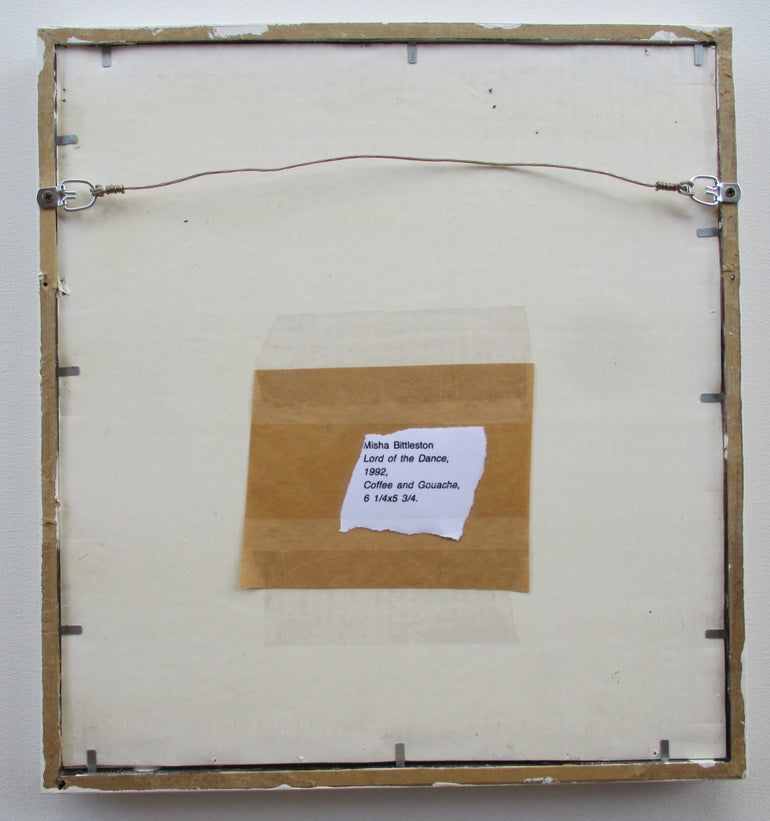 Lord of the Dance, 1992 - original coffee and gouache painting on board
This is one of a handful of pieces that Bittleston painted with coffee. Here coffee was used for the brown ochre underpainting. The brilliant tapestry of colored strokes were built up with splashes and broken glazes using an expressive technique known as scumbling, which applies drags of pigment that create broken textures over the underpainted areas, giving this painting its airy impressionistic sense of motion and vibrating atmosphere.
---

The resurrection was physical, but the ascension was transitional. Why ascend physically to a non physical place? If ascension is not a translation of the physical, then why be resurrected physically, only to ascend to a purely non-physical dimension?
What does ascension have to do with this painting? I have thought seriously about heaven, if heaven is completely non-physical then it cannot be actually located, and my local perspective cannot be positioned in it. I have tried to imagine being without a location, or having an identity without a "here." I have tried to conceive of movement without space. I have tried to feel what motion might be like, if I were made of non localized energy.
Would it be like how I move and progress through a piece of music, or like within the self-symmetry of a changing kaleidoscope, I move through change itself, not in terms of distances between points, and I retain self identity not in my separation from other points of identity but in my internal geometry that remains self symmetrical even as I change.
Would it be like how colors and textures take me on a journey through thought and feeling, how songs become definite places, how a painting is located on a wall, but it also evinces the present continuous recollection of a psychic place, a place that originates on the back-end of my senses and moves outward onto and into what I see?
Maybe in painting I am inviting an ascension, a phase shift of being, that dances between physical and spiritual; between the dimension of what is seen as literal color, line, texture, material, and what exists in the evoked dimension, that is real, just as information is as real as the words that evoke it. So I am ascending from the visual color, to the passion and the play of sensation evoked by the color, from the lines to the metaphorical movement evoked by the line, from the texture to the thought vibration, and the sensation of dimensional tug and release that is produced in me.  

Size: 6 1/4" x 5 3/4"
Frame size: 15 14" x 14 1/8"
Medium: Coffee and gouache on paper mounted on cotton board 


In writing the lyrics to "Lord of the Dance", Sydney Carter was inspired partly by Jesus, but also by a statue of the Hindu deity Shiva as Nataraja (Shiva's dancing pose) which sat on his desk. Carter wrote:
"I see Christ as the incarnation of the piper who is calling us. He dances that shape and pattern which is at the heart of our reality. By Christ I mean not only Jesus; in other times and places, other planets, there may be other Lords of the Dance. But Jesus is the one I know of first and best. I sing of the dancing pattern in the life and words of Jesus."

"I danced in the morning when the world was young
I danced in the moon and the stars and the sun…
They buried my body, they thought I was gone
But I am the dance, and the dance goes on…
They cut me down and I leapt up high
I am the life that will never, never die
I'll live in you if you'll live in me
I am the Lord of the dance, said he
Dance, dance, wherever you may be
I am the lord of the dance, said he
And I lead you all, wherever you may be
And I lead you all in the dance, said he"
— Sydney Carter 


Lord of the Dance, 1992 - original coffee and gouache painting on board