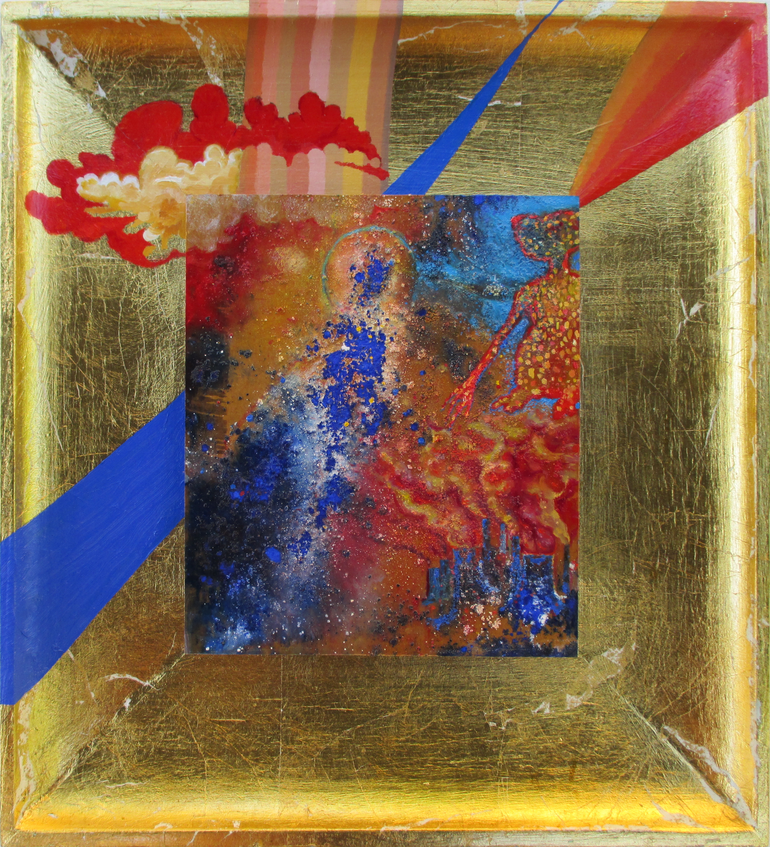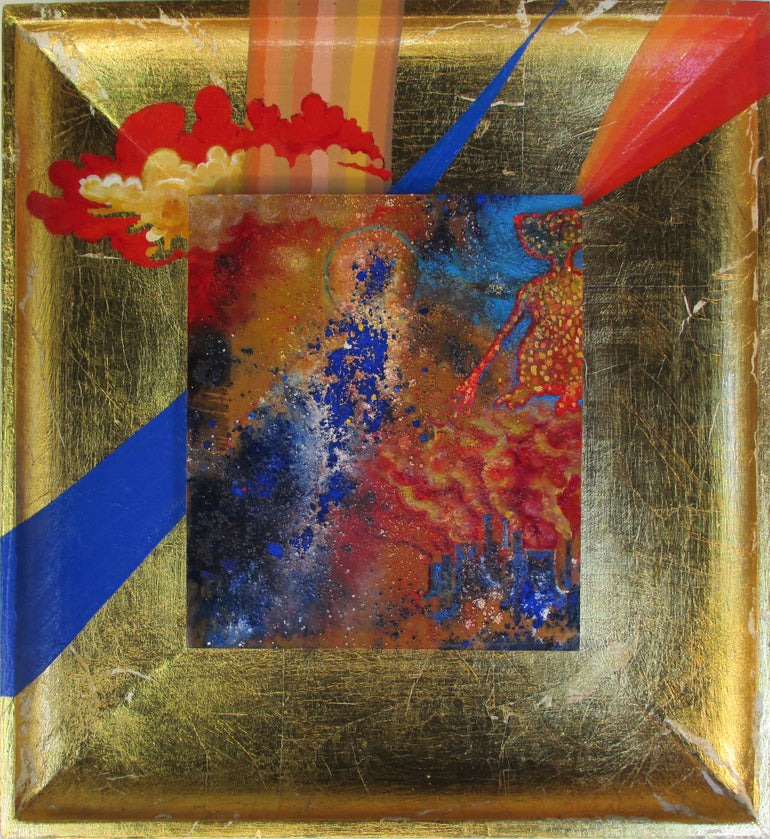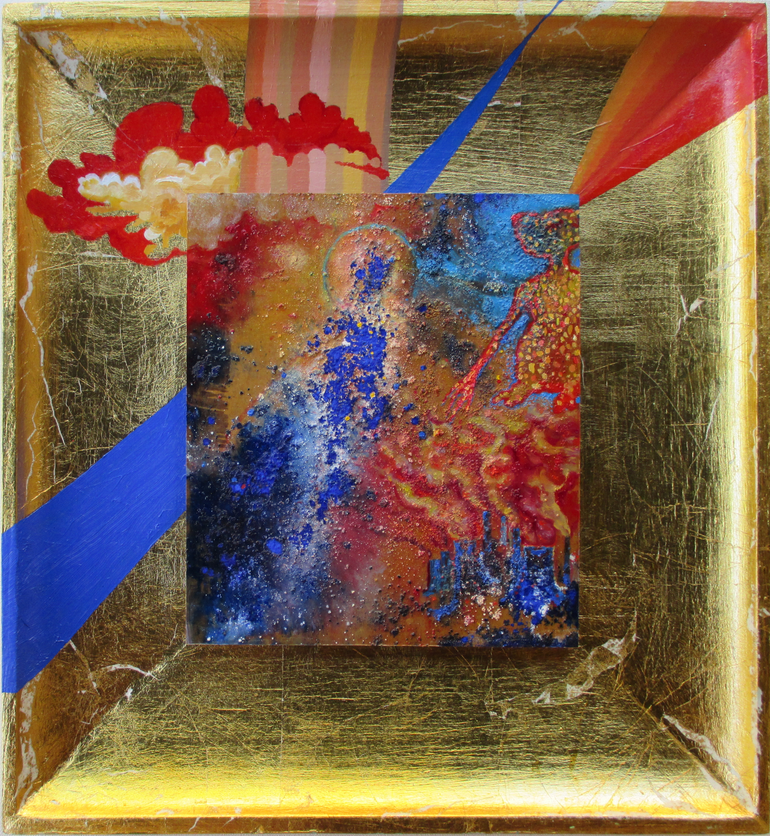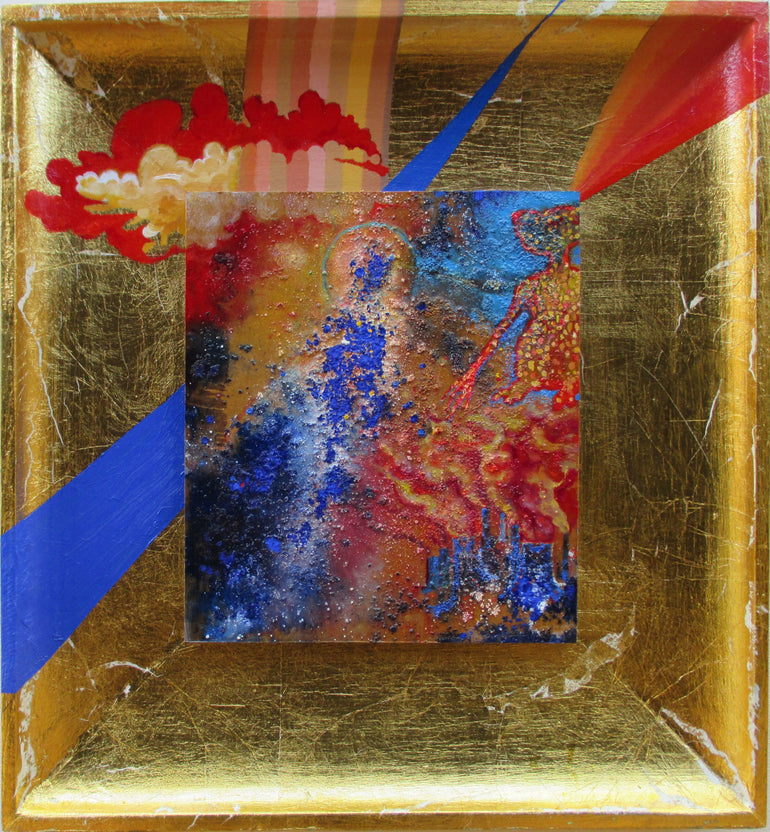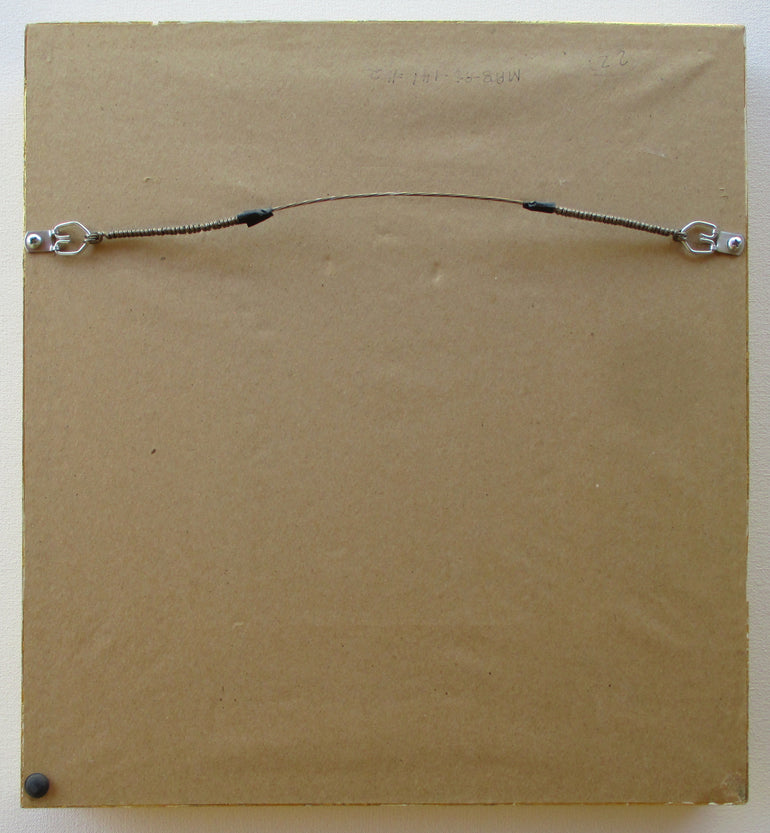 Brownbow, 1994 to 2018 - original oil and pigment painting on cardboard and gold leaf
In this painting I imagine a sequel to the movie ET, where humanity has gotten ourselves into an environmental mess, we cannot reverse, and we are saved by an alien botanist, who helps us realize that our hope for harmony with each other and our world is rooted in how we value.   
I realize it sounds far fetched, but the probability of alien life is not unscientific. Their nature is of course our nature, the laws of energy and physics are the same for all beings in the universe. Other intelligent life forms on other exoplanets, will have also faced the challenge to cultivate nature's processes to ensure the health and survival of their planet and of the beings on it who value life, while limiting the sway of those entities and forces that undermine a harmonious existence for the nurturing and the peaceful.
This painting was started over 25 years ago at a time when I had access to an etching press that I used primarily for making monotypes. The central cardboard was a pigment monotype print made by applying oil based printing ink and raw pigments to a printing plate and running it through the press, which compacted onto whatever surface I was printing on, in this case a thick piece of corrugated cardboard. 
The way the powdered pigment scatters and gathers feels cosmic. Like the images from space telescopes of stars forming amid colorful curtains of illuminated dust. I felt that the process of printing was a cosmic process in its own right, and how it came out was a natural phenomenon, decided as much or less by me than by how the materials behaved. Each pass through the printing press was an experiment, whose mysterious outcome I ceded to the poetic forces that had created the stars the elements and me. 
This mono print painting, had always looked to me like a blue intergalactic human on a walk through space, and because each pass of the press left behind some pigment and ink there were several progressions of the image, some more abstract while in others the blue space walker was unmistakable. The version that became this piece, was the only one on corrugated cardboard, and what I liked about it was the contrast of the gold leafed liner frame that transformed a piece of worthless cardboard that would have been discarded, or recycled within days, into something that is still here, even a quarter century later.
Framing waste cardboard with gold expresses the idea that, It is not materials that define value. We are all made of the same stuff, and worth is not just how that stuff is arranged, but its story. Corrugated cardboard is not the stuff of meaning, but this piece, challenges that, by changing its context and giving it a story. I allowed this piece of waste cardboard to tell its narrative: about how it is an extension of humanity, and an expression of how humans act as if separate from their environment. I depicted the narrative concept, as a conversation between a person in a space helmet talking to ET about how to make a new start, like Noah did, but rather than a rainbow, the brownbow represents the cardboard that holds, carries and transports all that we value, and the brown people, who are the colorful future of our planet, and the hope that comes from re-framing the idea that anyone or anything is trash.
This painting spills out onto the frame. The clouds of red industrial pollution that spew from the chimneys drift up through and out of the painting and onto the frame, become the clouds from which the brownbow emerges. Our mistakes and our oppression of those parts of reality that we have externalized will either destroy us or be our call to glory and redemption.
The boundary, between, frame and painting, is as arbitrary as the distinction between trash and art, all the boundaries we put on people, places, things are boundaries we place on love. All that we throw away, does not go away. All the poison spewed from industry, and from our bigotry does not disappear. All the borders in the world are no more than fears that I am not an island of me, I am the self awareness of a larger process that includes every animal and tree, every technology, economy and my freedom and independence are not expressed by my acts of conflict, but by my ability to harmonize with the forces that frighten me. 
I enjoy this thing because it says so much. It is a bold object, part painting part sculpture, part collage, part trash, part treasure, and all at odds with itself. Is it gaudy and hideous, or is it intense and radiant? Sublime or ridiculous? Unrefined or rarefied? Do all its flaws, cracks, messy textures, rough edges and wrinkles make it unpretentious or is it all pretense, like all the faults that give realism or awkwardness to a performance?
Size of liner frame: 14 1/4" x 13 1/4"
Size of mounted cardboard:  8" x 7"
Medium: Oil and pigment mono print on corrugated cardboard mounted on liner frame with oil paint and gold leaf
Brownbow, 1994 to 2018 - original oil and pigment painting on cardboard and gold leaf