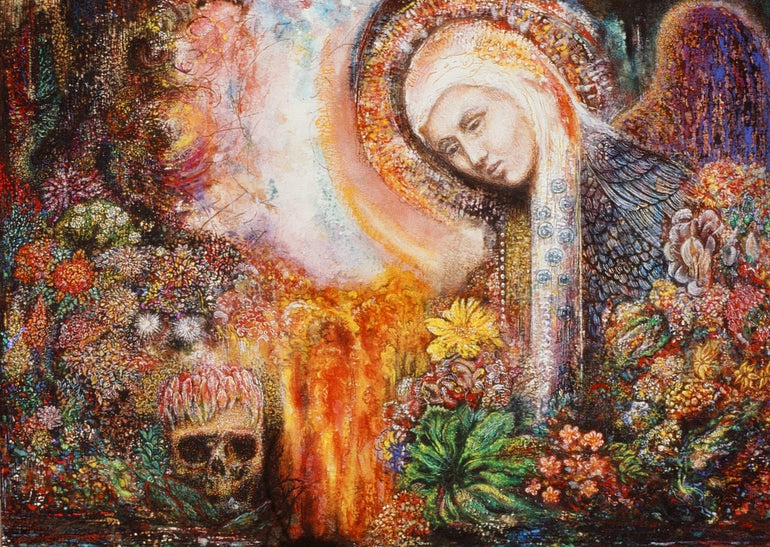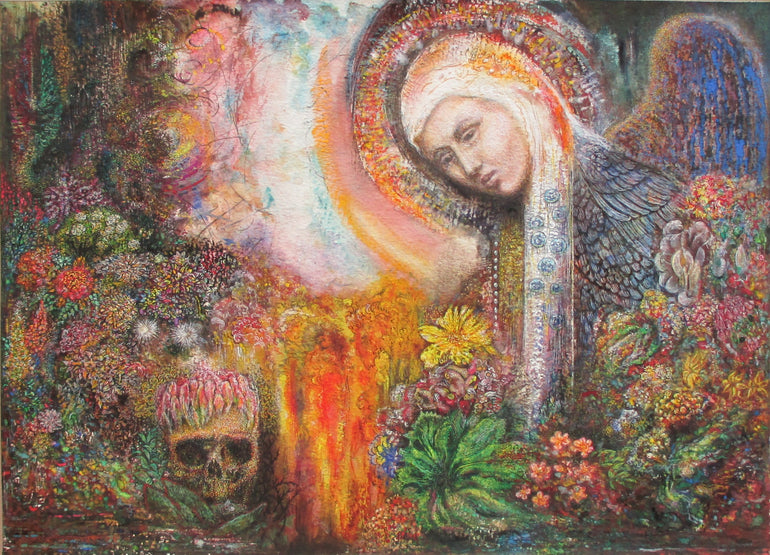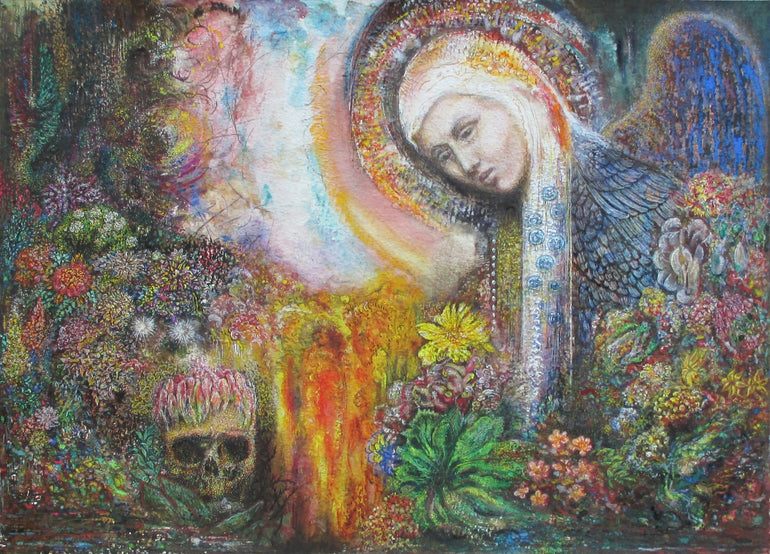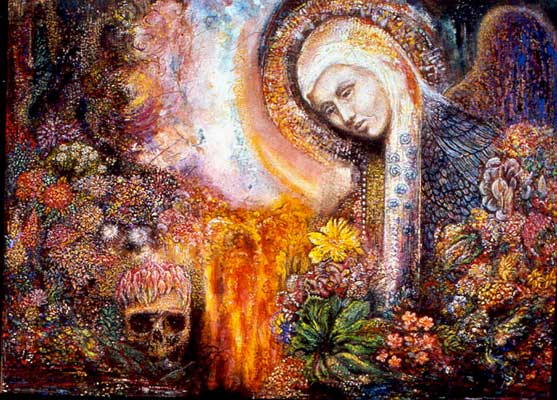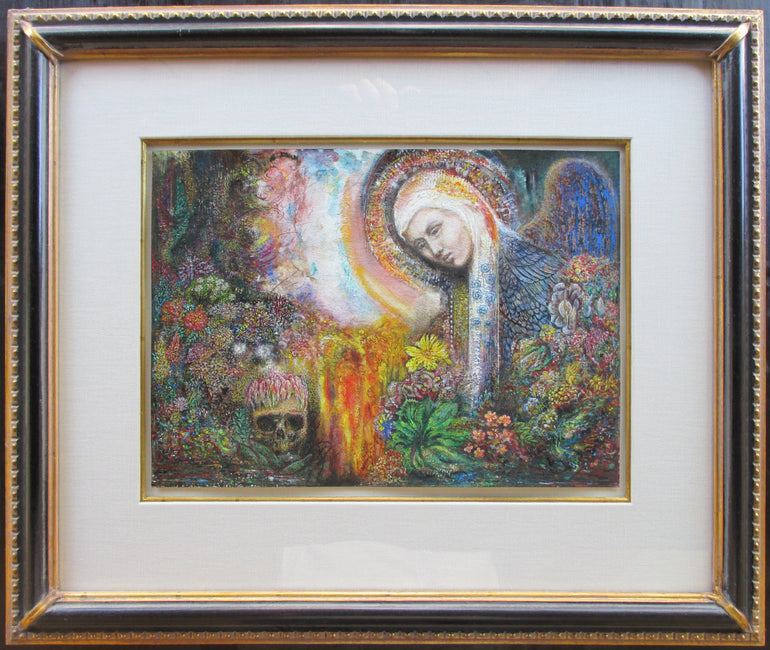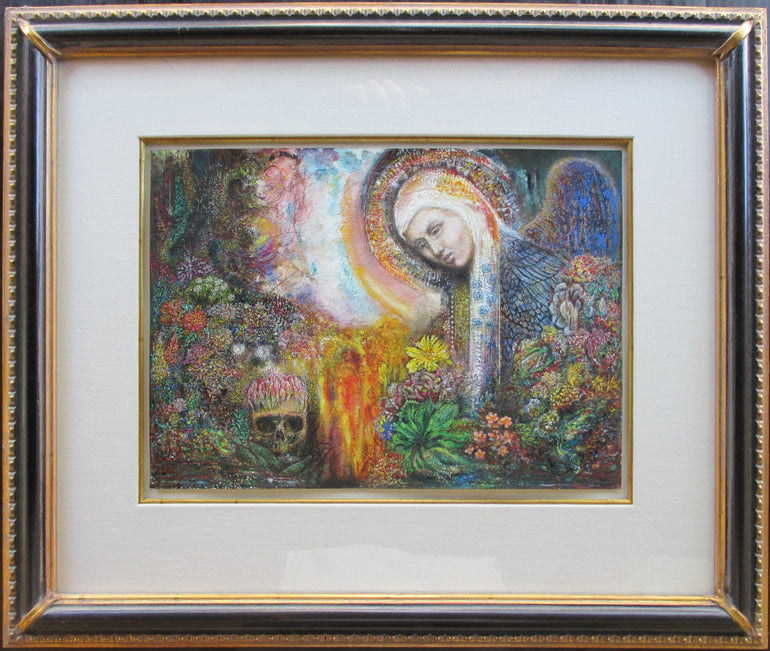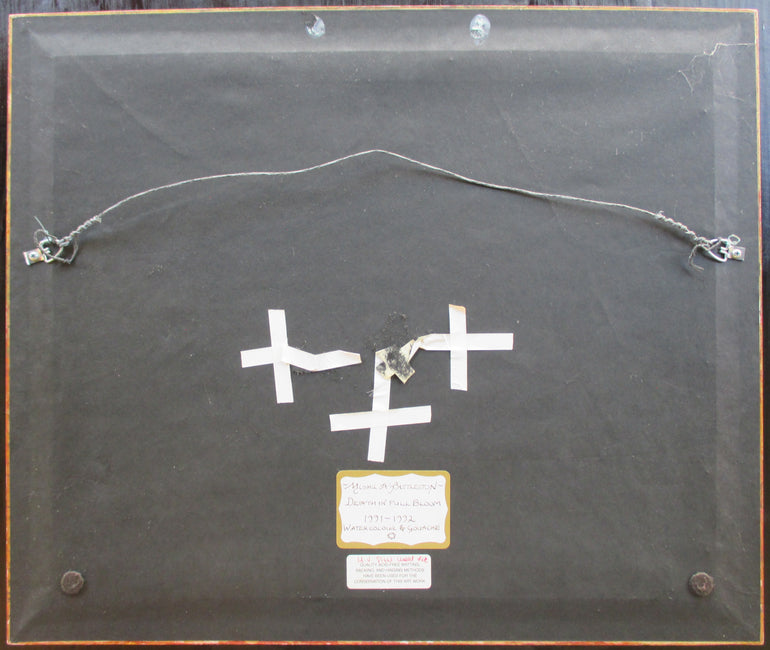 Death in Full Bloom, 1992 - original watercolor and gouache painting
If there were one painting that summed up all the early work, one clear answer to my prayers for inspiration, if one piece said everything I wished to say, to the point where I was left asking "what next?" it was Death in Full Bloom. How unfair to find the rainbow's end so soon. In a way, this painting made it essential that I move on, without this painting, and it's exuberant generosity of color, its realization of the full spectrum of feeling, I would not have ventured into a world where colors were reunited into pure light, and all I needed to express that, was black ink and white paper.
Death in Full Bloom was the end and the beginning. Like the first day of summer is also the last, the longest day, and the day after which, all days grow shorter.
All the techniques, and skills I had acquired, all the art I absorbed, all fill this painting to overflowing. There is something of this painting, in every other I have done. In this painting I see all that exhausting richness, that zeal and that urgency, that passion and that ease, which I have longed for and dreaded ever since. From the spiraling logarithmic composition, that very human face that is all archetype of unconditional compassion, a compassion from which nothing and no one is omitted. The interplay of loose and random marks with florid arrangements of dizzying detail, speaks to the fact that this, like all of the early work was improvised, without preliminary drawings.
This image is very consciously set in the language of symbolism, of of pure contemplating, existing as a mirror for all existence, of feeling feeling, and thinking about thoughts, of finding beauty in the hellfire that burns right at the edge of the garden of creation, all these themes and structures are there, and more.
I worked on this painting for two years, and it weighed on me. Not because the whole time it was not almost finished, but rather, because it was, even from the start, it was always pressingly close. From the start, it commanded that I must work it into being, and that was always too great a task for me, and still, this painting weighs on me. As much as I have tried to move on from it, it is still with me. When I finally let it go, it will be the beginning I have always hoped for.
What are angels? As life becomes death and life again, what rainbow of compassion peacefully energizes the boundless flow of transformation?
Artwork size: 10 1/16" x 14 1/16"
Date: 1991 to 1992.
Medium: Quill pen, watercolor and gouache on paper. 
FRAMING
Frame size: 19 1/4" x 22 7/8"
The black and gold carved frame was custom handmade for this piece, it has a linen floating mat with gold bevel. All the framing uses museum grade archival and conservation materials, including non-glare UV glazing.
Death in Full Bloom, 1992 - original watercolor and gouache painting